The GLOBAL FUTURE

EDUCATION
 

FOUNDATION is a

 

not-for-profit 501(c)(3) corporation dedicated to promoting and spreading a CIVILIZATION-LEVEL CHANGE to

 

REAL-WORLD  IMPACT STUDENT EMPOWERMENT PROJECT EDUCATION

 —

an alternative kin

d of education  now emerging around the globe that better fits many of today's and tomorrow's kids.
Civilization-level Change in Education means:
"EMPOWERING OUR K

IDS TO BETTER THEIR WORLD"
For historical reasons, the world is currently stuck with an education that no longer fits either its kids OR their future world…
We don't need to incrementally fix our old academic education. We need to transition from the academic education to something new — an "Empowerment to Better Their World" Education.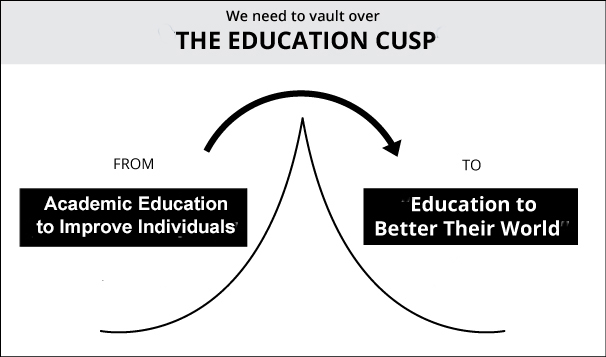 acquiring those skills through an education that is fully based around kids—at all levels—continuously doing projects that better their world.  
Those kinds of projects are growing exponentially around the globe—you can see examples in the database on the left.
(You can try a working version of this database here.
THE MISSION OF THE GLOBAL FUTURE EDUCATION FOUNDATION is to encourage this emerging civilization-level alternative in education by PROMOTING THE VISION, and by BUILDING NEEDED TOOLS and INFRASTRUCTURE to help make it happen.